Why do we play games? Games are always fun and entertaining. Playing games assists in the mental stimulation and interaction of physical activities that boost our energy. Games are the best idea to fight boredom too. Also, playing games is also a kind of training to get better in that particular game. For instance, chess. Using mental techniques to make the opponent lose by giving Checkmate. Playing football with a team by scoring a goal where the opponent's goalkeeper is always ready to dodge the ball. Just like hoomans, dogs also have their favorite games. Their interests may vary based on their breed, heredity, and genetic characteristics but despite any breed or genes, dogs may have common favorite games. Entertain your best compawnions with the most trending favorite dog games. 
 Regarding the nature of the dogs, they can be played several games too. To know more, click on Dog Games here. But here we will dig into the most played games by the dogs that come as their favorites.
DOG FAVORITE GAMES
Games are the most engaging activities that can be considered physically and mentally stimulating exercises for anyone whether humans or canines. Playing together strengthens the bond between the players oops not in the World Cup or Cricket Game but you and your pooches. Let's excavate the most trending dog favorite games here.
1. Fetch
Fetching is a Classico game that canines have been loving to play from the beginning. Whenever you throw a tennis ball, frisbee, or even a stick, they always get excited to run after them, catch in their mouth and bring it to you. Fetching is better played in a yard, park, or field. As the dogs run, fetch encourages your dogs to run and go in the direction where the item is thrown. But make sure you praise your dog like Good Dog, or Amazing or reward them with some treats too.
2. Tug of war
Tug of War is one of the most engaging and fun games to play with your dogs. Tug of war determines how strong your dog's teeth are. Pulling and tugging are the parts of this game where your dogs use their mouth or specifically teeth to win over the rope. Try using a soft rubber rope for playing with your dogs. You can find dog ropes here in Petxan too. Make sure you pull the rope gently and softly when you are playing with the pups. They show sweet aggression when they are playing tug of war. It's plenty of good exercise for your dog's teeth and gums too.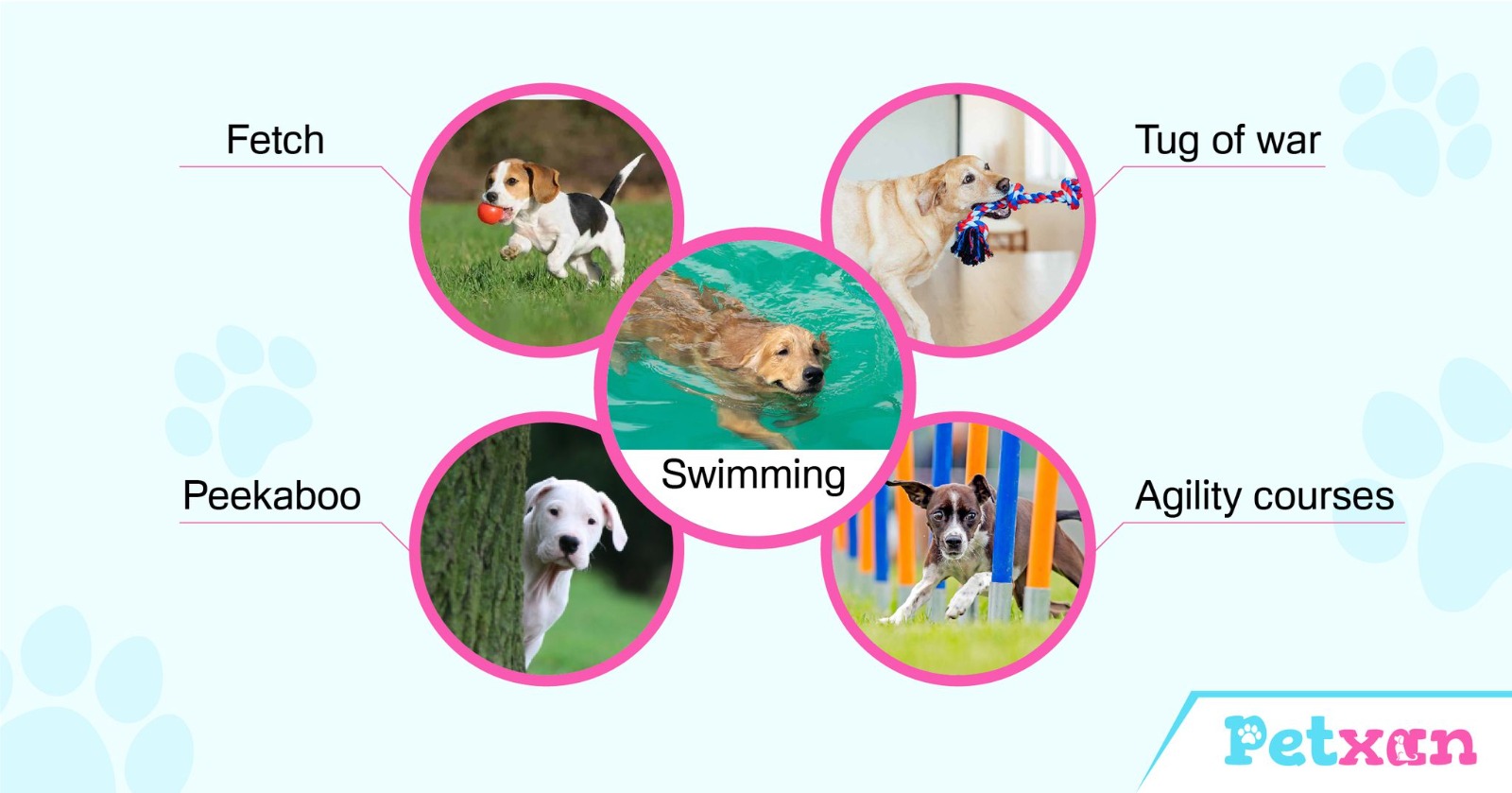 3. Peekaboo
Actually, it's not a Peekaboo that you play with the kids. It's like a hide-and-seek of the dog's treats. You hide a certain treat somewhere at someplace and leave the marks of the treats. You order your dogs to find the treat and they start investigating with their scenting ability to find out the optimum treat that's been hidden. You can examine the smartness and willingness of your pets with this game. As this is the 'Treasure Hunt' of your dogs, this one always remains the favorite dog game for the pooches.
4. Agility courses
Agility courses are fun ways to teach the pooches new skills and make them smarter with mental simulation. These courses are like obstacle courses and you can buy certain items from the market or you can develop your own agility courses for your pets. For example, by making dog puzzles on your own and with your subtle guidance of yours, your pooches would be able to solve them. These games are tricky and your pooches are smart enough to tackle any tricky challenges, right?
5. Swimming
Even without crash courses or Advanced courses in Swimming, the canines are good at swimming. They love to play with splashes and bubbles. But it doesn't mean you make your dogs swim at first. Get a doggie life jacket for protection and first of all, examine their swimming skills before calling them a pro-swimmer. And enjoy your summer holidays with the pooches in the pool. Have fun!
There are many other games such as digging, using puzzles and food dispensing toys and chewing toy puzzles, and many more. Make sure you have scheduled a certain time for your dogs to play games with them. As a guardian to them, you must work on their physical, and mental simulations. Be a good pawrent and say YES to games too!