Be you have been a pup-parent for a longer time or begin to start as a guardian for your pooches, you have to become responsible for your pooches' needs and demands. If you are a beginner and going to adopt a new pooch, you are definitely going to experience mishmash emotions. You will be worried if your new family member will fit into the family or if you are well prepared enough to take care of the new member. But no worries. You will become a pawsome parent by learning and experiencing. But are you well aware of the must-have essentials that your pets may need?
If you are a beginner, better to start to make a routine to take care of your pooches and mention the requirements for your pooches in your personal diary because it's better to start and learn early than late. So let's begin with the top must-have essentials that pup-parents must own.
Collars, leashes, and harnesses
Don't you think it looks cute on your pups with collars with different designs and colors? It not only enhances your pooches' personality but the collar and leash situations are more comfortable when you are going on walks with your new family member and introducing your Doggo pals with everyone.
Harnesses may be used as alternatives to collars especially when you are adopting smaller dogs but it's upon you to choose which may make it comfortable for you and your dogs to rely on. But obviously, you need a leash to go with the collar or harness you choose. Make sure the leashes are between four and six feet long also depending upon the size of your dogs. Also, the collars should have a quick-release clasp and they should be of the right size for your pooches.
Extra Tip: GPS trackers and ID tags may be more reliable to go with collars or harnesses if you are going for the outside walks with your pooches. As safety and security come first.
As a parent, you should also be ready to gather the Doo-doo of your pups. You have to be a responsible citizen too. You just can't make your pups do potty outside and leave the trash. So, when your babies start eliminating the poops outside, poop bags are really handy. You can make them learn the etiquettes of doing poops in the specified places. 
When you become a pup parent, taking care of your pooches from the day it wakes up to the naptime when it sleeps, has to become one of your daily routines. So, while feeding your pups, do not just put their food on the carpet or grounds. Make sure to buy the appropriate food and water bowls that they feel comfortable with while eating. But if your dogs become gobblers, feed them in the bowls with multiple obstacles. It will improve their digestion and eating speed. You can choose the bowls made up of premium quality plastics and stainless steel too.
Sound and quiet sleep are important for all. But if the naptime is disturbed by the uncomfy beddings, then many health problems may also occur. As a Doggo parent, you should be able to manage the dog beds made with a soft cloth, pillows, and blankets where your pooches can have a quality naptime accompanied with sweet dreams. Good night, sleep tight, and Don't let the Megas byte is important, woof, woof!
Don't just let your pups cuddle only for a whole time. Play with them and surround their places with quite interactive toys like rubber toys, chew bones, balls, and many more. Interactive training from a young age will really enhance their skills. These toys with treat pockets provide good mental stimulation and they get distracted from stressful situations too. And you don't need your pups to be lousy and lazy, right?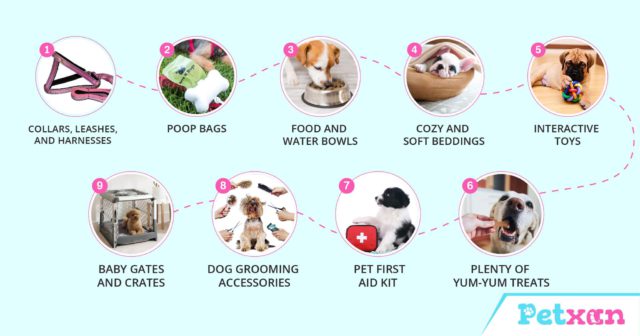 Your pooches will feel motivated and yearn towards doing good deeds if you treat them with rewards. They will try to learn the skills, play with you and do the things you command them to do if you motivate them by rewarding them with yummy treats each time. But make sure the treats are healthy by nature that are enriched with protein and good for their teeth.
Your pooches may have several wounds or injuries while playing or jumping. So before a major injury occurs, you should play the role of Doctor-Doctor with your pets too. Arrange a well-managed bag with all the first aid kit accessories for your dogs. Make it handy too so that it may be easier to carry for you even if you are going on the walks with your pooches.
Nail clippers, shampoos, dog brushes, anti-fleas medicines, etc are some of the grooming accessories that you must own at your home. Making your pooches neat and clean should also be your top priority. Regular bathing and grooming should be on your diary and the timing schedules too.
If you are a beginner in adopting a new dog, you can buy the dog crates for more safety and security while sleeping. And obviously, the gates of your homes will be bigger for your dogs so baby gates can be quite reasonable and your pooches can view the outside environment too.
Apart from these must-have essentials, you can prioritize according to your dog's needs and demands too. Whether you are a beginner as a pup-parent or experienced one, you would have certain responsibilities to fulfill. So make sure to dedicate your time to your pooches too.
If you want any of the dog essentials, you can contact Petxan too. Click here.