Festivals mean joy, festivals mean happiness, and festivals mean togetherness. We hoomans celebrate the festivals by gathering together, celebrating together, and commemorating the meaning of those festivals. For example, we celebrate Vijaya Dashami as the symbolizing event for Victory over Evil. We celebrate Buddha Jayanta commemorating the Light of Asia and his knowledge and contributions to the world. These festivals can also be referred to as Thank you events where people gather together, perform the rituals and celebrate with happiness. But do you know that there exist dog festivals as well that are celebrated in different corners of the world?
These dog festivals around the world are one of the top celebrations where hoomans and pooches gather together, have fun, and create thousands of beautiful memories for a lifetime. We will discuss some of the popular dog festivals around the world here. So, let's paw in.
Dog Festivals around the world
Frankenmuth Dog Bowl
Frankenmuth Dog Bowl is an annual festival celebrated in the small town of Frankenmuth, Michigan. The people of the town celebrate this annual day by hosting various events. The most popular one is the Olympics-styled sporting event which includes more than 25 activities for both dogs and humans. The dogs and humans have to showcase their talent in different contests. This annual festival is one of the best events for the socialization of dogs. There are several contests such as costume contests, river cruises, and many other things. The dogs are even crowned King and Queen of Dog Bowl in the event.
Woofstock
Woofstock is one of the grand and biggest dog festivals in North America. Tons of dogs gather at the Toronto beaches to celebrate the party. The party takes place for two days. This festival marks the celebration of friendship. The festival includes talent shows, contests, dog fashion shows, and booths full of luxurious canine products. This event is purposeful for the hundreds of thousands of dogs to gather together, participate, exhibit talent, and many things.
Ugly Dog Contest
Many may think what type of racist or discriminative dog contest this is. But wait for it! This festival is one of the most positive festivals to celebrate dogs. The world's ugliest dog contest intends to raise awareness about the importance of pet adoption and showcase that each dog is special, each dog has a special trait. This contest impacts the awareness that every dog deserves love and every dog deserves a home. This contest has gained international fame and takes place at Sonoma-Marin Fairgrounds in Petaluma, California.
Kukur Tihar
There's no doubt that every Nepalese knows about this festival. It has also gained international recognition and the festival is being featured in many vloggers' videos and on YouTube. This festival lies on the second day of Tihar, the Festival of Lights. Dogs are often considered as the guards to the gates of the heavens. So, the dogs receive gifts, flowers, garlands, and snacks on this day. Dogs are worshiped on this day and they receive special attention on this day.
Tompkins Square Halloween Dog Parade
This parade takes place in New York City where dogs are dressed in cute outfits and creative costumes and the participation in the parade goes through the East village streets. Every year on Halloween's Eve, people gather together with the pooches in cute dresses. The event includes different costume contests such as "best pop culture reference", scariest costume, creative costume, etc. The winners of each contest receive pawbulous prizes. This is one of the grandest dog festivals in New York.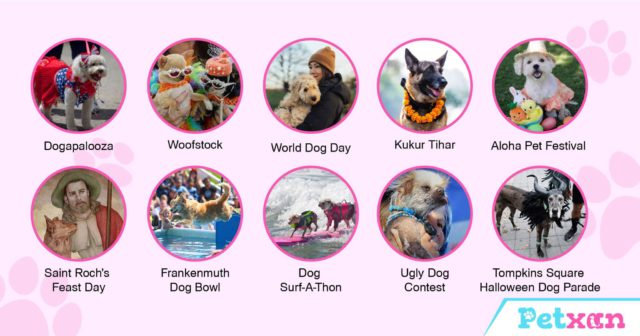 Saint Roch's Feast Day
This day is the Catholic holiday that honors the patron saint of dogs at Saint Roch. August 16 is the holy day for the people and the dogs here. It's celebrated in Bolivia, at the church of Villa Adela in the city of El Alto near La Paz. The legend says that Saint Roch traveled from France to Italy in the 14th century to assist the plague victims and when he got infected himself, the dog became his savior by licking his wounds. That dog often offered him bread too. To commemorate the incident, this feast day is celebrated every August. 
Dog Surf-A-Thon
The word itself depicts that the event has to do something with surfing, right? It's organized by Helen Woodward Animal Center to raise money for dogs that are in the need of adoption. This annual Dog Surf-a-Thon-ks is held at Del Mar Dog Beach in Rancho Santa Fe, California. A number of dogs participate in this event by competing with other dogs on surfboards for various titles. The prizes are given based on their skills, confidence, creativity, and enthusiasm. Also, hoomans also participate with their dogs on surfboards, which is one of the main attractions of this event.
World Dog Day
Vanderpump Dog Foundation hosts this event that intends to raise awareness about global dog abuse in Los Angeles, California. Rescue and providence of homes are some of the objectives of this event. The events consist of pet-centered activities like contests, live entertainment, booths, yoga, classes, and many more.
Aloha Pet Festival 
This pet festival is celebrated on the island of Hawaii, Hondulu. This festival is celebrated with dogs disguised in various costumes. The various trick contests, events, and activities take place on this special day. Tons of people with their pawcious companions take part in this event.
Dogapalooza
It's a dog-friendly music event held in Melbourne, Australia held in September. It is a charity-based event that is hosted in order to raise money for animal rights organizations. This event also focuses on animal cruelty and other pet-related issues.
These dog festivals represent the love and affection towards dogs. These festivals make the hoomans and pooches from different places gather together and share friendship as a new bonding. There are many other such dog festivals all around the world that are celebrated with tons of joy and happiness. These dog festivals are one of the best platforms to exhibit the pooches' talents, socialize them with others, know about pet issues, and many more. So, don't you think these kinds of dog festivals need to be introduced more and the togetherness needs to be fostered more?